theatre akimbo / Events /
Thu 21

to

Fri 22 Feb 2013

(2 days)
teenakimbo present TOMORROW I'LL BE HAPPY by Jonathan Harvey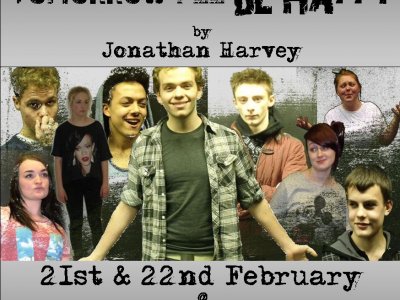 teenakimbo present
Tomorrow I'll Be Happy by Jonathan Harvey
at Northbrook Theatre, Worthing
When a stranger comes to a crumbling seaside town looking for his friend Darren, he discovers that he was killed in a homophobic hate crime. As the secrets of the past come spilling out, we learn that for Darren's group of friends, all is not quite as it first seems.
This brand new play, from the acclaimed Jonathan Harvey, (Beautiful Thing, The Cherry Blossom Tree, Rupert Streets Lonely Hearts Club) is part of National Theatre Connections – the largest and most prestigious youth theatre festival for 13 to 19 year olds in the world.
teenakimbo has drawn on young talent from across the county to perform this specially commissioned piece, taking a visceral look at teenage life in today's society. Tackling issues of love, hatred and difference and how the brutality of peer pressure impacts on our lives forever.
A hard-hitting, close-to-the-knuckle journey that will stay with you indefinitely.
Support young talent. Support new writing. Support the future.
£5 all seats from www.theatreakimbo.co.uk
Curtain up 7.30pm
Supported by Northbrook Theatre and The Ardington Hotel
Please Note:
this play contains some strong language and acts of violence and is not suitable for under15's unless accompanied by an adult.
For more information visit http://www.theatreakimbo.co.uk/
Event Location