TrestleTheatre / Events /
Sat 05 Nov

to

Thu 29 Dec 2022

(2 months)
Drawing With Scissors | An exhibition by Kathryn Holt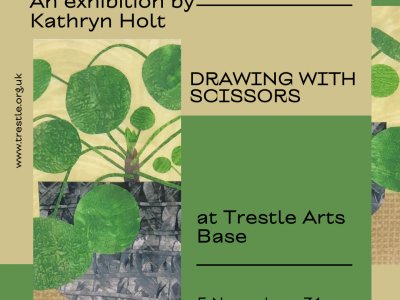 Artist Kathryn Holt returns to the Trestle Gallery Cafe with prints of her popular botanical themed painted paper collages.
During the exhibition Kathryn will be working from time to time in the cafe, developing new collages and exploring mark making techniques. There will be a free 'Have a go at Collage' workshop later in November. The date is to be confirmed.
Entry is free and the exhibition is open during our normal Arts Base hours, visit our website for more information.
For enquiries about the exhibition space at Trestle, please contact our Gallery Programmer Elaine Johnson at gallery@trestle.org.uk | 01727 850950
For more information visit https://www.trestle.org.uk/whats-on/2022/11/5/drawing-with-scissors-an-exhibition-by-kathryn-holt
Event Location