Biscuit Pottery / Events /
Sat 20 Aug 2022
Taster Wheel Throwing Workshop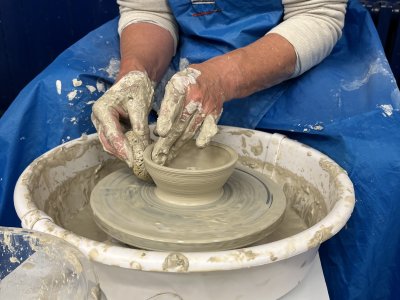 During this workshop you will learn how to wedge and prepare balls of clay and then have lots of time to practice the basics of throwing, centring your clay, pulling and then shaping clay to make cylinders and bowls.

At the end of the workshop you will be able to choose two of your favourite pots which will be bisque fired, then glazed in a colour of your choice before being fired again.

Your finished artwork with be ready for you to collect in approximately 4 weeks from our Studio in Chichester.

Aprons are provided but please wear appropriate clothing and take off any jewellery as clay can very messy.

There will be a maximum of 4 people attending this workshop, each with their own dedicated potter's wheel.
£50 per person which includes all materials, two firings, glaze plus refreshments. Suitable for 16 years and up
For more information visit https://www.biscuitpottery.co.uk/taster-wheel-throwing.html
Event Location