Blue Monkey Network / Events /
Thu 21 Mar 2019
Unfinished Business – Susan Miller: Artist in Residence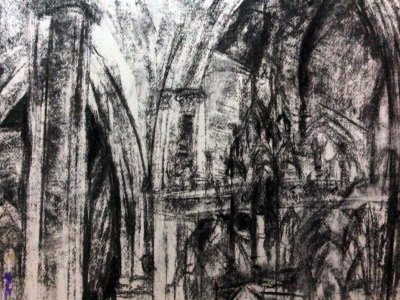 Our occasional Unfinished Business events offer the opportunity to get a behind the scenes insight into the research and development of an artists' work, focusing on the development of a piece of work or project still in progress. We can take the opportunity to consider different artists' approaches and starting points and ways of developing their work and its context: exploring academic research, reading, dreaming, blind alleys, red herrings, breakthroughs and the mysterious, exciting and vulnerable state of work in progress.
Our Unfinished Business presenter for March is Susan Miller. Susan is currently artist in residence at the Pugin Chapel in St Leonards. Writing in her blog recently Susan explains: "I had the good fortune to meet the owner of the Pugin Chapel in St Leonards who was looking for community engagement with the Chapel. I suggested a residency and yesterday I completed the checks necessary to work on a school site… For some time I have been considering the possibility of working in a church. As my work moves into a reflective period... I am hopeful that creatively exploring the Pugin Chapel will open a new direction for my work. I should add that even asking for the residency is way beyond my comfort zone, but I have seen the results of other artists from such an experience and as I move purposefully towards the next stage of my life, I feel that now is the time for such a challenge."
Predominantly a painter, this is Susan's first residency and marks a step change in her practice, potentially opening up new ways of working and new directions for her practice. Susan will present developing work and tell us about her progress so far. She is keen to engage with other artists to share experiences and knowledge and potentially learn from others' experience.
Susan completed an MA in Fine Art in 2017 and has exhibited in London, at the Towner Gallery and throughout Sussex as well as a recent exhibition in Germany. Her work explores the fragility and instability of our, seemingly, certain reality. She says, "By examining the space that exists between memory and experience, I seek to question perception with forms that teeter on the edge of recognition and alienation."
You can follow Susan's current blog at https://susanmilleruk.wordpress.com/ and view more of her work at http://www.susanmiller.org.uk/

6-8pm Existing Blue Monkey members FREE, Pay As You Go members and all others £5.
Event Location