Chichester Copywriter / Images
Chichester Copywriter's Writers' Retreats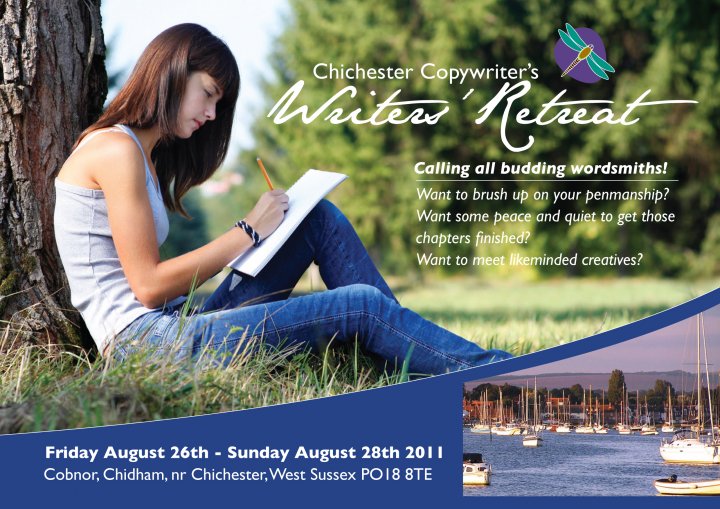 This is an idea that came about as a result of Chichester Copywriter's own creative writing inspirations. Katy has put together a package for a Writers' Retreat including all of the things that inspire her to put pen to paper, including:
•The beautiful South Coast and South Downs
•The sea, all the life within and surrounding
•The rich natural and historical qualities of West Sussex
•A network of published writers she's come to know and admire
•Good homemade food, sourced locally and in season, where possible
•Arts and crafts by lovely talented Chichester folk
•Fabulous fresh air and fun activities to let off steam and refresh the mind
•Aromatherapy and rekei to relax and boost creativity

So, here it is a Writer's Retreat with a difference!
Join Chichester Copywriter Friday August 26th – Sunday August 28th, 2011 at Cobnor, nr Chichester, West Sussex, for our first Writers' Retreat. Here are just some of the highlights that will get those creative juices flowing:
•Pimm's reception, networking and book signings with local writers and published authors
•How to Get Inspired to Write with Stewart Ferris (Unusual Character Names for Writers, Summersdale, eBook, 2010; How to Publish Your Own Book, Summersdale, 2008; How to be a Writer, Summersdale, 2005; How to Get Published, Summersdale 2005)
•The Enemy of Good Writing is Weak Specification: Creative Writing Workshop with Gabrielle Kimm (His Last Duchess, Sphere, 2010; The Courtesan's Lover, Sphere, 2011)
•Changing Voices: Characterisation Workshop with Isabel Ashdown (Glasshopper, Myriad Editions, 2009; Hurry Up and Wait, Myriad Editions, 2011)
•Poetry Reading and Writer Talk with Melanie Penycate (Breaking the Arch, Guildford Poets Press, 1995; Feeding Humming Birds, Oversteps Books, 2009)•Getting Published: Our Experiences. Writing and Publishing Panel Talk with Isabel Ashdown, Victoria Blunden (Fiction Editor, Myriad Editions), Gabrielle Kimm, Rebecca Saunders (Senior Editor of Women's Fiction, Little, Brown) and Stewart Ferris
•TLC for Tools of the Trade: Complimentary hand massages to ensure your creative words flow freely on the page with Mary Atkinson (The Art of Indian Head Massage, Carlton, 2000, 2011; Hand and Foot Massage, Carlton, 2002, 2010; Healing Touch for Children, Gaia, 2009; A Practical Guide to Self Massage, Cico, 2005) and Lesley Brown.
•'Sea Dreams': Exhibition of Paintings and Illustrations by Lorrie Whittington.
•'Coast Art': Exhibition of works inspired by the local coastline and its manmade and natural features by Jan Guest.
•Plenty of space to write either outside by the water or in the new classroom.
•Boat trip to East Head or Bosham to inspire your creative writing
•Informal kayaking with a qualified instructor
•Live music and marshmallows around the campfire
•Excellent food – including a BBQ and sumptuous cream tea
•Full accommodation: newly refurbished log cabins on the shoreline
•A relaxing massage with Clinical Aromatherapist Lesley Brown, using a blend of aromatherapy oils to aid creativity (£10-£20).
•A relaxing rekei treatment with Rekei Masters Quintin and Zena Macmorland, which can boost creativity and aid writers' block (£10-£20).

Tickets for the Writers' Retreat weekend (Friday-Sunday), including all of the above and more are £200-£250. Tickets just for Friday evening's Pimm's reception, networking, talks with writers and publishers, book signings and art exhibition are £15.
Please email: Katy@ChichesterCopywriter.co.uk or call: 01243 533421 to request a booking form or buy a ticket. Please note that places for the weekend are very limited to ensure that guests on Chichester Copywriter's Writers' Retreat get the best experience possible, please book early to avoid disappointment. Tickets for the Friday evening are also limited by the capacity of our lovely surroundings.
For more information on Chichester Copywriter's Writers' Retreat please visit: http://www.chichestercopywriter.co.uk/2011/03/chichester-copywriters-writers-retreats/
For more information visit http://www.chichestercopywriter.co.uk/2011/03/chichester-copywriters-writers-retreats/
Image Location