Claque Theatre / Events /
Mon 25 Jun

to

Sat 07 Jul 2012

(2 weeks)
Parallel Lives - Hartfield Community Play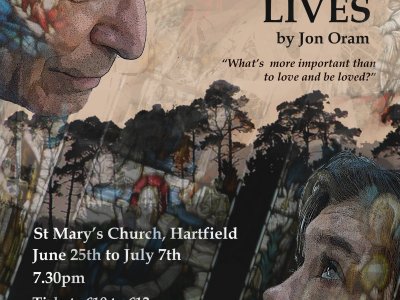 "Life's too short to miss opportunities like this"
Claque Theatre production
PARALLEL LIVES by Jon Oram
St Mary's Church, Hartfield from June 25th to July 7th, 7.30pm
1913 – What's wrong with Mr McAndrew? He used to be so quiet and sensible. Why is he mixing with unsavoury characters? What do they want and why is he building a church? The world is intruding on Hartfield and it's all getting out of hand.
1938 - Reverend Causon thinks it's a good idea to celebrate the silver jubilee of Holy Trinity church and has asked the lovely Mr Christopher Fry to write a play but what will it be about and will anyone take part?
1987 - Outside, the Great Storm is brewing. To allay their fears, Alice, her lifelong friend Sadie and three generations of her children share the giant bed to tell stories. Alice was once a kitchen maid for the nice Mr McAndrew. Sadie was from another world entirely but they found friendship and both, in their different ways, made a difference.
Parallel Lives explores two worlds each generally untroubled by the other until someone crosses over. Within the ensuing conflict lies a personal story of discovering the value of friendship and the price of time.
This intimate story unfolds in the beautiful setting of a 13th century church. The play envelops the audience in the world of the story, putting them closer to the action than ever before. The production is coloured by Claque's visual flare using masks, aerial and shadow puppets, projections and lanterns, with traditional and original music.
Parallel Lives is designed as a promenade production and is best enjoyed by a standing audience. There are a small number of seats for people with limited mobility only. Seats may have a restricted view. For tickets go to www.claquetheatre.com/productions
Alternatively, please drop into the Box Office at Hartfield Village Hall, East Sussex or call 07714 249232.
Please note: Seats and concessionary tickets are not available on-line.
For more information visit http://www.claquetheatre.com/productions/
Event Location