Doctor Simpo / Opportunities /
Sun 06 Sep 2020
Create a 1 Page Comic Competition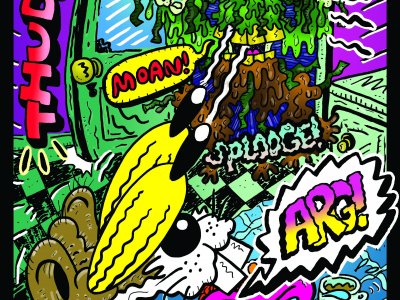 Thought Bubble, Leeds Arts University, Travelling Man, Bates Mill Creative Spaces and Doctor Simpo (that's me!) brings you a super-exciting competition to see your work in luxurious lithograph print...YES IN PRINT!
To celebrate the launch of one of the first MA Graphic Novel Courses in the UK at Leeds Arts University this September...
...brings YOU an exciting chance for ALL YOU budding cartoonists and comic book creators out there!!!
There are 4 BIG PRIZES up for grabs: a winner in each of the following categories will win vouchers for TRAVELLING MAN:
5 -11 years (£50)
12 -15 years (£50)
16 -19 years (£50)
20+ (£100)
Plus an amazing Thought Bubble goodie bag for each winner!!
Each entrant will receive a digital copy of the final Things and Stuff Special Comic containing some super top-tips for creating your own comics.
All you need to do is to create your own characters, build a world for them to live in and find the best-fit story for them to tell...
THINK ABOUT:-
1) CHARACTER DESIGN:
- hero (protagonist)
- villain (antagonist)
2) STORY DEVELOPMENT:
- BEGINNING - set the scene
- MIDDLE - conflict/dilemma
- END - resolution/cliffhanger
3) WORLD BUILDING
4) PAGE LAYOUT:
- 420mm x 297mm(A3)
- 10mm bleed around each side
5) COMIC TOOLS:
- comic panels with words
and pictures
- speech bubbles
- narration boxes
- sound effects
- THOUGHT BUBBLES!

6) PENCILLING
7) INKING:
- not simply tracing
- find the 'best-fit' line
8) COLOURING (optional)

9) DIGITISE/SCAN

10) SUBMIT/EMAIL BY
12 noon 06/09/2020

To enter simply send your 1 page comic via email or weTransfer to:

doctorsimpo@hotmail.co.uk

Make sure to include your name and age...

GOOD LUCK!
For more information visit https://www.thoughtbubblefestival.com/doctor-simpo-comic-art-comp
Opportunity Location