It's Magic Events / Events /
Sun 08 Dec 2013
That'll be the Day Christmas Show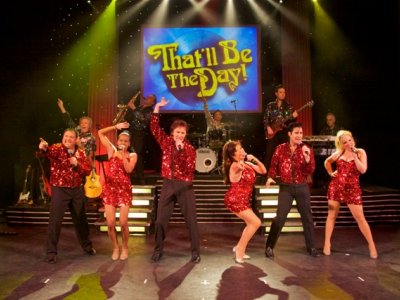 THAT'LL BE THE DAY CHRISTMAS SHOW
SUNDAY 8TH DECEMBER, 2013 7.30pm – THE TRIANGLE, BURGESS HILL RH15 8WA
Prepare yourself for a party as the legendary That'll Be The Day, the nation's longest running rock 'n' roll variety show returns by popular demand with a Brand New Christmas Production on Sunday 8th December 7.30pm at The Triangle, Burgess Hill.
This hugely entertaining rock 'n' roll spectacular features a fantastic line up of knock-out hits from the 1950's, 60's and 70's. A fresh and astonishingly versatile programme of music mixed with loads of new zany comedy routines to produce a show with a real feel good party atmosphere. So much so, that many members of the audience will feel they are having a night out with old friends
That'll Be The Day – Britain's touring rock 'n' roll comedy phenomenon – produces an annual special festive mix of pop hits, saucy comedy and a mini-panto.
Now in its 28th year of touring continuously in the UK and Europe, That'll Be The Day is living proof that Rock 'n' Roll will never die. The show has music covering all eras from the 1950's right up to Whitney Houston and features a talented cast of multi-instrumentalist/vocalists
Trevor Payne's That'll Be The Day Christmas Show is a production that has put down deep roots with its audiences in its 28 year history and most audience members know exactly what they've come for - rock and roll Christmas music, a bit of panto and variety show style comedy from a simpler time.
The show opens with a rollback of the years to the late 1950s with a fast tempo medley of rock 'n' roll greats including such Christmastime hits as Crying by Roy Orbison and You're Sixteen by Johnny Burnette, The band keeps the show energized and on pace with various arrangements of former Christmas hits.
This isn't a tribute act, but it's full of tributes. The cast are not impressionists, but do fantastic impressions of our best-loved entertainers, and as a bonus; they are first class singers and musicians too.
Despite having been on the road for over 25 years, it is still as fresh as ever and great entertainment.
This pacy show features its multi-talented, five-piece, live band and five fantastic vocalists, complemented by a group of delightful young dancers.
It's not hard to see why people keep coming back to this show time after time. The audience will be treated to a pick 'n' mix of popular music greats and comedy sketches, sprinkled with magical Christmas dust! There is even a Christmas panto. A rousing finale of Christmas hits will have the audience on their feet, topping off a hugely enjoyable evening of entertainment. It's not subtle, it's not highbrow, but it is very good fun.
Tickets and booking information
TICKETS: £22
Book your tickets by phoning the It's Magic Events Ticket Office on 01444 800045 or online www.itsmagic.org.uk
For more information visit http://www.itsmagic.org.uk/
Event Location