Montet Designs / Events /
Sat 03 Dec 2022
Christmas Mosaic Wreaths, Mirrors & Table Centrepiece Plates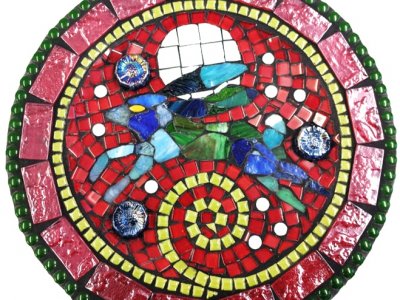 Come join me, Audrey (mosaicist) at The Pavilion, Greenwood Park, St Albans for a day of festive mosaic making loveliness this December! For this workshop we'll be creating something quite spectacular this Christmas to display and enjoy during the festive period.
You'll have a choice of creating either a mosaic wreath with beautiful double sided satin creating the bow to display on your door, a festive mirror to adorn your wall or a unique charger plate to create a fantastic centre piece for your dining room table.
During the workshop you'll be supported in creating a successful design, learn how to snip and place your tiles onto your chosen substrate. All materials will be provided and should you not complete your tile work on the day you'll be given all necessary materials to take home with you.
I will give a demonstration on how to grout during the session and you'll be given grout and step by step instructions to take away with you at the end of the day. Should you complete your mosaic design with time to spare you will be able to grout your completed piece within the workshop time.
So come! On your own, with a friend or family. Sessions are very relaxed and welcoming and suitable for complete beginners and those already experienced in mosaic making. The workshop is usually attended by adults but is open to children who are keen to attend with a participating adult and who will be happy to participate for the duration (guide age 11 years+).
So once you book, have a think about what design you'd like to create and feel free to email or call me to discuss your ideas.
Coffee/tea and biscuits are provided throughout the workshop. You may also want to bring along a packed lunch or treat yourself to something lovely from the Lazy Llama Café which is on site!
TO BOOK: https://www.montetdesigns.co.uk/product-page/christmas-designs-charger-plates-wreaths-mirrors
£75pp
For more information visit https://www.montetdesigns.co.uk/product-page/christmas-designs-charger-plates-wreaths-mirrors
Event Location