Montet Designs / Events /
Sat 10 Dec 2022
Christmas Crafts - Festive Family Mosaic Making Sat 10th Dec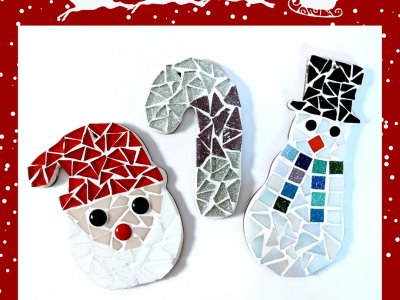 Come get creative as a family this Christmas!! We're delighted to be back running our family mosaic workshops at the Pavilion in Greenwood Park, Chiswell Green, St Albans. A fab location for family activities with the added bonus of the wonderful park, playground and fab café.
We're getting all festive this December!! Come create your own unique handmade festive mosaic designs to enjoy this Christmas and every other year to come.
And we'll also have a selection of our DIY mosaic kits to purchase, so you can also pick up some Christmas gifts!
Suitable for all the family. This is a great activity to all have fun together.
TO BOOK: https://www.montetdesigns.co.uk/product-page/christmas-crafts-festive-family-mosaic-making
£14pp
Event Location
Greenwood Park Pavilion
Greenwood Park
37 Tippendell Lane
Chiswell Green
St Albans
AL2 3HW
Telephone: 07762 875 226
Email: audrey@montetdesigns.co.uk