Paul / Events /
Sat 21

to

Sun 22 Jul 2018

(2 days)
SK8FEST18 - THE WORKSHOPS!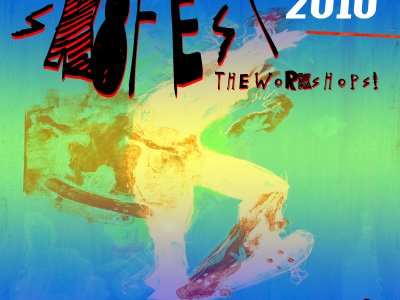 SK8FEST18 - THE WORKSHOPS are TWO intensive workshop days on Saturday and Sunday 21st and 22nd July, in Haywards Heath RH16 2AQ, in SONG WRITING, SONG PRODUCTION, DANCE & PHYSICAL THEATRE & CREATIVE WRITING working with seriously cool professional artists from AUDIO ACTIVE, LITTLE GREEN PIG & THE PAPPY SHOW
10am-4pm at The Albermarle Centre, Oathall Community College, Haywards Heath RH16 2AQ,
***All the work produced during the workshops will be featured within the SK8FEST 2018 event programme on WEDNESDAY 25 JULY 4pm-9pm at the NEW Skatepark at Victoria Park, Haywards Heath.***
The workshops are pitched at young people between the ages of 12 and 17, however, if you are younger or older we will welcome you! If you find yourself with more experience than others you can support.
Places are LIMITED so:
TO REGISTER YOUR INTEREST PLEASE EMAIL SALLY & PAUL at:
sk8fest18@gmail.com
and tell us which areas you are particularly interested in attending. No previous experience is necessary!
Write a song, write poem, write a rap, set it to music, create a short piece of dance or theatre to show at the Skatepark - whatever you prefer to do. By the time the weekend is over, you will be super-confident and ready to show your work or have it played! This is your moment! Let's do it!
SK8FEST18 is produced by Creatives Across Sussex and Mid Sussex District Council working with Clarion Housing Group. Contact Sally and Paul at sk8fest18@gmail.com for further information.
Links to the workshops leaders:
http://audioactive.org.uk
https://www.littlegreenpig.org.uk
http://www.thepappyshow.co.uk
AUDIO ACTIVE
'Better Futures Through Music'
'AudioActive are doing something to ensure that regardless of wealth or background, young people get a chance to be creative. I can't support that enough. Big love. Rag'n'Bone Man'
LITTLE GREEN PIG
'Space to create for young writers'
'We believe in the power of the imagination and that fantastic and transformative things happen when you pick up a pen and share your story.'
THE PAPPYSHOW
Winner of 'Origins Award' for 'outstanding new work', Vault Festival 2018
'Kane Husbands is a theatre director specialising in movement and choreography. He choreographed the Team Welcome Ceremonies at the 2012 Olympics and directed for the Commonwealth Games.
Event Location
ALBERMARLE CENTRE, OATHALL COMMUNITY COLLEGE CAMPUS
Appledore Gardens, Lindfield, Haywards Heath RH16 2AQ
RH16 2AQ
Telephone: 07768 287 207
Email: sk8fest18@gmail.com