Paul / Events /
Wed 29 Aug 2018
WILLOWFEST - THE FIRST ONE!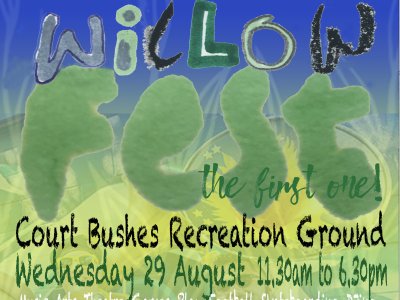 WILLOWFEST is a first summer festival for the Court Bushes Recreation Ground and in particular for the residents of Court Bushes at Hurstpierpoint.
The event has been created as a way of meeting local people to help get more ideas about the kinds of activities that future users would like to see taking place in the area and at the newly rebuilt Community Centre when it opens in early 2019. And if people like the Willowfest idea, it can become a model for an event that could become an annual habit on the park!
We have programmed a range of different activities to take place at our pop-up venue - a mini circus tent! - and on the park. Here's what we've got:
Straight from the Edinburgh Fringe we have Signor Baffo's Clown Show, perfect for the 4-9yrs age group
JP Omari's Street Dance Workshops for the 8-80s and his Funk Fit Workshop for the slightly older 18-88s!
Crawley Town FC who will be running two coaching sessions during the day
Crawley's finest DJ Neel Rabat who will be playing music in the afternoon and also be letting young people run the deck
The famous Brighton Skatebiscuits crew who will be teaching anyone that wants to hit the next level on the Skatepark and
Giant Swingball, Silly Games, Boom Whackers, Art with co-organisers, the brilliant SAME SKY, the Sensory Bus and Live Music conclude a fabulous family orientated event with everyone in mind
Bring a picnic and make it a day!
Starts at 11.30am and finishes at 6.30pm.
**Look out for the Steam Punk vehicle, touring the estate from 10am!**
All the best Sally, Paul and Sally
Creatives Across Sussex are working with Mid Sussex District Council's 'Better Young Lives' and Community Development teams and Same Sky Community Arts to deliver this event
***Join Sally, Paul and Sally on the day to share your thoughts and ideas about what you would like to see in the new Community Centre
Event Location
Court Bushes Recreation Ground
34 Willow Way, Hurstpierpoint
BN6 9TH
Telephone: 07768 287 207
Email: paulackerley61@gmail.com