The Capitol / Events /
Wed 19 Nov 2014
Frigg (FINLAND)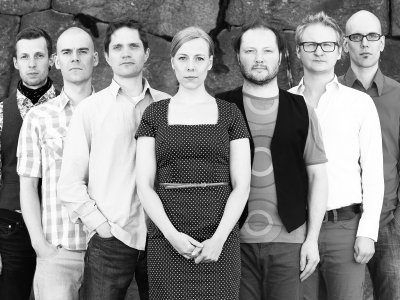 Hot fiddles from cool Scandinavia!
One of the world's finest fiddle bands are back in the UK. Named after the Norse goddess of love and fertility, this freewheeling, feel good septet have created their own captivating style of music – Nordgrass – fusing Nordic folk and American bluegrass. Frigg's globetrotting has seen them complete six extensive tours of North America, together with tours including Australia, Japan, Germany, Austria, the Benelux countries, Switzerland and appearances in Malaysia, Spain, Portugal and France.
A HAIR-RAISING, VOICE-LOSING, HEART-BURSTINGLY BEAUTIFUL CONCERT FULL OF TRADITIONAL FINNISH TUNES WITH NORWEGIAN DETOURS.
"There aren't many bands who can better a perfect album, but Frigg has don't it with Polka V. The playing is as exquisite as always and there's a greater depth of inventions, fun and beauty than ever. Frigg has done it again!"
Fiona Talkington, BBC Radio 3's Late Junsction on CD Polka V
Tickets £17.50, Under 21's £12.50
For more information visit http://www.thecapitolhorsham.com/
Event Location