TrestleTheatre / Events /
Fri 27 Jan 2023
Creative Wellbeing | Glass Painting with Fran Wilson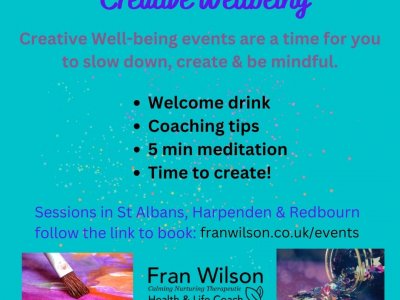 Creative Well-being events are a time for you to slow down, create & be mindful. Each event includes a welcome drink, coaching tips, 5 min meditation, time to create!
Sessions held in St Albans, Harpenden & Redbourn
January/February glass painting events:
Harpenden Thursday 26th 7 - 8.30 pm
St Albans Friday 27th 1 - 2.30 pm
Redbourn Thursday 2nd 7 - 8.30 pm
BOOK NOW
Enjoy making time to unwind and mindfully create for just £25 per person.
More information at www.franwilson.co.uk
For more information visit https://www.trestle.org.uk/whats-on/2023/1/27/creative-wellbeing-glass-painting-with-fran-wilson
Event Location